An Autoimmune Event to bring you back to basics.
This event meant so much to me because I not only spoke at this event, but I also helped organize it. From all of our pre-planning, organizing, speaking with other businesses for coupons/items for our gift bags, and marketing, I helped see this beautiful event from fruition of a dream (over a year and a half in the making) to execution, and it was such a true mark of how far I've come in my journey. I had the pleasure of speaking about holistic healing through nutrition, and told the audience about my own health journey with Multiple Sclerosis, as well as some facts and statistics of how powerful nutrition can be as a treatment. Laurel Stanton, owner and stylist at Lavender Salon, talked about natural beauty and the common toxins found in an alarming amount of our products. Christina Maiorino, who is near completion of her masters in nutrition, gave a food demo and spoke about the healing properties of each item she was using in her recipe. Matthew Rideout, owner and founder of Strict Chef, gave some tips to changing your eating style, as well as a tool he created for others to use to help guide them through the process. Courtney Maiorino, reiki master and energy healer, spoke about the healing benefits of trusting your intuition and listening to nudges. It was a magical day, filled with deep, enlightening discussion with our audience members. I'm so proud of this one.
To catch a clip of some of my highlights during my talk, click here!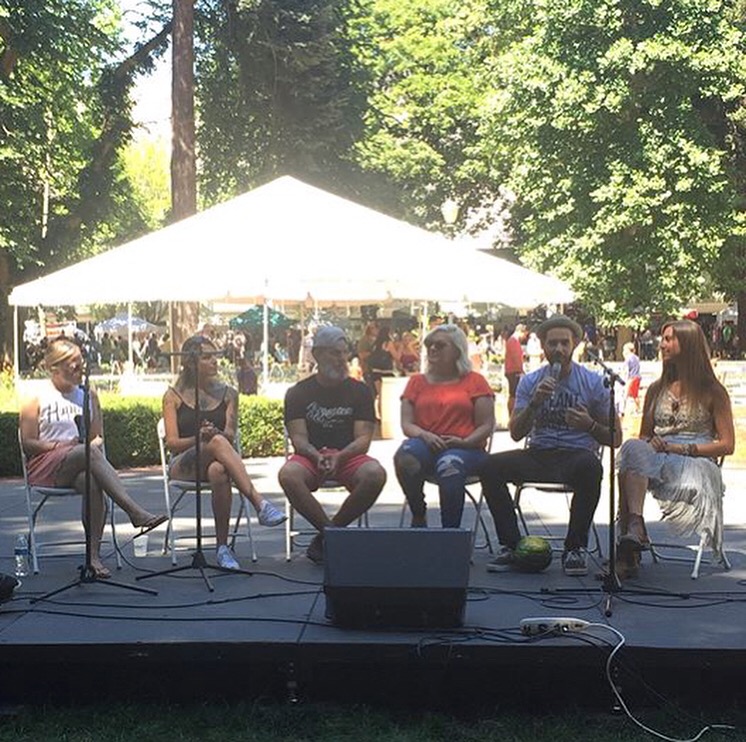 VegOut! Portland, OR (2018)
Leaders for Positive Change Panel
I had the pleasure of sitting in on a panel alongside Jodi Monelle (Founder of LiveKindly), Diana Edelman (Founder of Vegans, Baby), Brenden Fitzgerald and Carly Bergman (Founders of Planet Protein and The Sustainable Duo), and Vinny (Founder of Gangster Vegan Organics).
The two day festival was filled with so many other inspiring speakers, and tons of insanely delicious plant based food and drinks. Our panel chatted all things vegan, zero waste, giving back, and healing through nutrition. It was such a blast hanging with this crew for our segment, and I'm sure my path will cross with them again soon! (It better!)